Malaysian artist answers call of the monsoon in her art and wayang kulit project
By DINESH KUMAR MAGANATHAN
Nearly two years ago, visual artist Cheng Yen Pheng discovered a unique wau (traditional Malay kite) while researching and browsing through YouTube videos. It was an encounter that led her on an adventure to the East Coast of Malaysia.
Cheng was blown away when she stumbled upon the wau lang, known for its immense size, three-dimensional structure, and unique sound when it takes flight. In the videos she found, she managed to track down the wau lang makers, which led her to a kampung in Chendering, Kuala Terengganu.

This would be a turning point in her When Land Tortoises Meet Sea Turtles community project, supported by the Cultural Economy Development Agency's (Cendana) Visual Arts Inspire Funding Programme.
Cheng's research and art project aims to observe how the unique location and weather phenomenon in Terengganu affects the lives of the locals. Her particular interest also lies in, certainly, the arts and culture that are formed by these factors.

However, her field work involving the wau lang makers didn't start off smoothly.
"It (wau studio) was run by a group of young men. They were very nice. But when I asked them about wau lang and said I was interested in conducting a wau-making workshop, I could tell they were apprehensive," says Cheng, 39, in a recent Zoom interview on how they didn't reject her outright but ignored her request.
Undaunted, Cheng contacted another local wau-making representative. Again, she faced a dead end.
"I wondered if they were just shy because I'm a woman," says Cheng, a locally trained artist, who had a memorable year in 2019 when her artwork Tug Of War: My Homeland won the UOB Painting of the Year (Malaysia) award.
With a determined approach towards art and life, this artist clearly didn't give up easily.
Despite the pandemic and various lockdowns that came along later, Cheng had this When Land Tortoises Meet Sea Turtles project to keep her busy and continued working on ways to develop it.
Monsoon calling
In Chendering, Cheng knew she had to chase the wau lang story origins. By chance, she found a lead when she saw a teenage boy riding his motorcycle past her car while she was recceing one of the villages in the area.
He was carrying a wau lang, something you couldn't miss by a mile.
"I stopped him and asked him where he was from. He pointed to the village up ahead. I drove up to Kampung Raja and that's where I met Abang Awang (Mohd Hisyam), a wau lang maker. I was so happy that my project could continue," recalls Cheng.
This is one of Cheng's many adventures during her 61-day research project in the East Coast, which involved four trips there.
A virtual wayang kulit performance called Panggilan Lang, which ties up Cheng's story about the monsoon, the East Coast communities and wau lang, will be streamed via Zoom later this week (Dec 18, 3pm).
"I have always been curious about the monsoon. And I think most of us who live on this side of the country don't actually know much about the monsoon. Like, besides the floods, what else actually happens on the East Coast? I wanted to investigate this," says Cheng, who is based in Batu Arang, Selangor.
Cheng divided her project into three parts: a baseline study conducted through interviews and observations, traditional wau-making with a variety of experts, and finally, conducting workshops on wau-making for the local children.
Feeling at home
Kampung Mangkuk, tucked between Sungai Setiu and the South China Sea, is also no stranger to Cheng. She discovered it while visiting Terrapuri, a conservation and restoration project of Terengganu Malay classic houses, in July last year. This charming fishing village and the friendliness of the people immediately captured her heart, she claims.
To familiarise herself with the local environment and village life, she spent a few months (December to January and March to May this year) staying at Kampung Mangkuk, together with her six-year-old daughter, studying the monsoon and gaining a better understanding of life in the East Coast.
Her visits to the dock, river mouth, nearby villages, villagers' homes, and local businesses allowed her to observe people's daily routines. She even met and interviewed local fishermen and boat builders.
"If I hadn't gone through this process, I wouldn't have seen how life in this community works. This first-hand knowledge, becoming part of the community, learning their mannerisms, and how they deal with challenges was eye-opening and insightful."
To connect better with the locals, Cheng used the wau culture there as a bridge-builder.
"When I befriended a wau maker's family, they introduced me to others in the village, and I learned more about the monsoon, what the fishermen do, and the wau's relationship with the monsoon. It was a good starting point," says Cheng.
Even then, she admits that without the assistance of Ecoswed, a Terengganu-based community of nature and culture guides, she would not have been able to initiate contact with locals such as wau makers, fishermen, and others.
For Cheng, the wau was not just a conversation starter. She also wanted to learn how to make her own wau. She approached and trained under various wau-makers in the area.
One wau-maker in particular, Pok Zaki, played an instrumental role, says Cheng.
"He was very friendly. It was easy to approach him and he was very open to share his wau-making skills and knowledge. He also conducted workshops for tourists.
"Since he was busy with work in the daytime, I was only able to go to his house at night. He and his family welcomed me like I was part of the family. That was very nice of them. They'd treat me to different kuih every night.
"As for the wau-making process, we would spend nearly two hours on it every night... sometimes we just sat and chat till two in the morning," says Cheng fondly.
With the knowledge of wau-making, Cheng was ready to step into the third phase of her project – leading her own wau-making workshops.
She held 12 workshop sessions for 24 participants (aged six to 17) from Kampung Mangkuk and Kampung Penarik from March to April this year.
"The kids were very excited. They really enjoyed the sessions. I loved teaching them because they were eager. We made mini wau kites, which can't be flown," shares Cheng.
The artist also realised that people from different villages didn't necessarily know each other's kites or their differences. She facilitated the knowledge transfer by organising additional workshops with Pok Zaki and Awang.
Participants were divided into groups to create and experiment with various projects ranging small decorative kites to wau lang. From assembling the bamboo structure to flying the kite in an open field, Cheng says it was an unforgettable experience for her, and it helped to inform and give colour to her research work.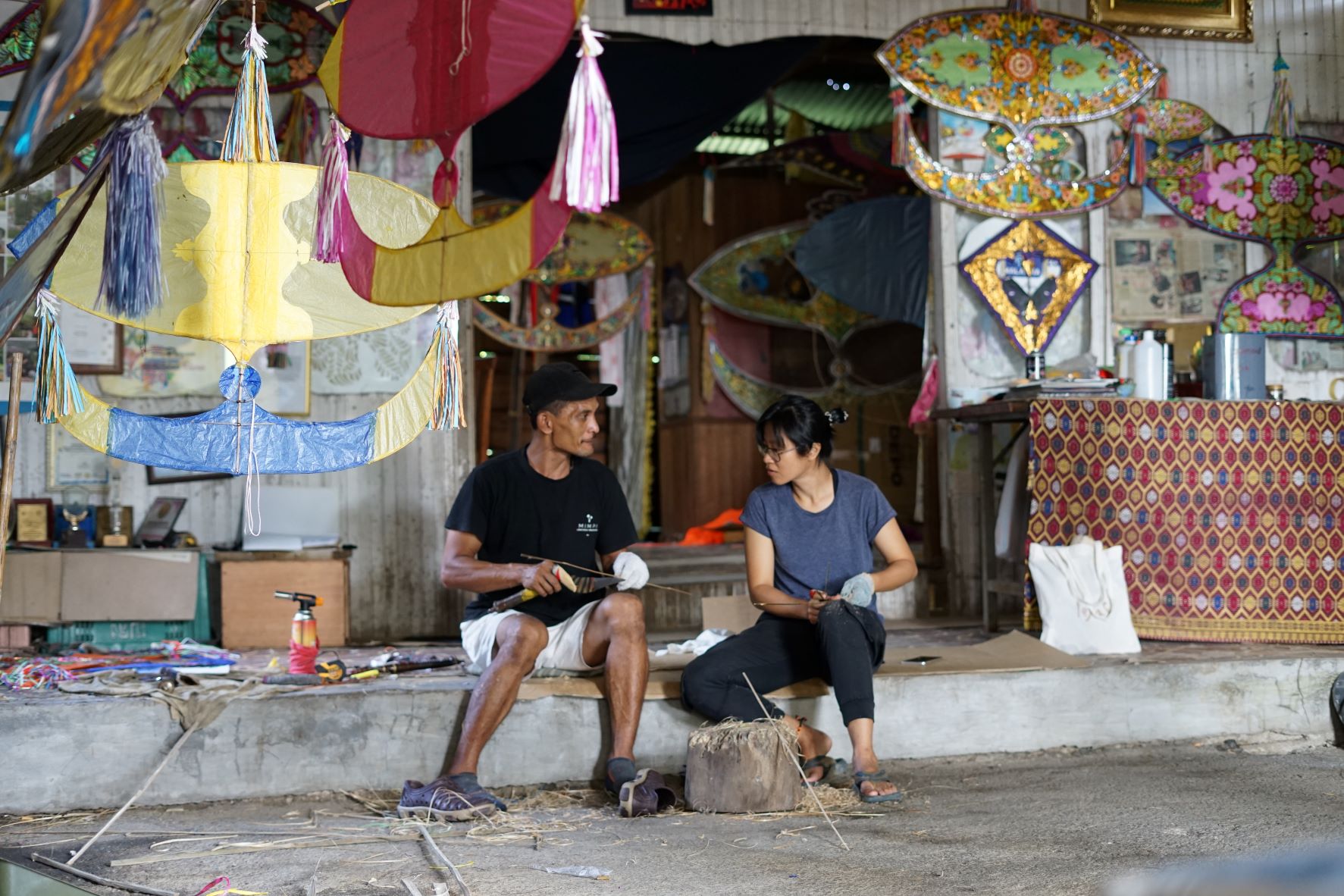 Image courtesy of Cheng Yen Pheng and Wei Ling Gallery
Wayang kulit element
It was Chendering's wau lang that drew the most attention to her community-based research. The appearance of wau lang in the sky and the Chendering community gathered on the beach always meant the arrival of the monsoon season.
The massive kite can only be flown when there is strong wind during the monsoon season.
"When I noticed that not many people actually knew about wau lang – not much has been written or researched about this wau – I knew immediately that I wanted to tell its story to the public.
"My initial plan was to do a documentary but I knew time was not on my side. That's when I decided to do a wayang kulit performance (Panggilan Lang). A wayang kulit (show) is a way to tell stories."
She approached a retired tok dalang (master puppeteer) in Kampung Mangkuk to help her with the show. But this had to be shelved due to the pandemic.
Instead, Cheng, who was stuck in Selangor at that time, contacted BaiZam Generation, a traditional performance troupe in Kuala Lumpur led by Zamzuriah Zahari, a renowned traditional dancer, choreographer and academic, and her husband Kamarul Baisah Hussin, a traditional arts expert, to help with the Panggilan Lang online show.
This theatre project was supported by UOB and Yayasan Hasanah's Arts For All Seasons.
Cheng and the BaiZam team completed 29 wayang kulit puppets in October, developed a storyline, songs and recorded the performance at Aswara (National Academy of Arts Culture & Heritage) in KL in early November.
Panggilan Lang, which is approximately 20 minutes long, will be followed by behind-the-scenes extras, including interviews, which will run for approximately 17 minutes.
Part of Cheng's on-site project did return to the East Coast recently. The wayang kulit puppets, together with 25 wau kites that were designed and made by the children and Cheng during the East Coast workshops, were exhibited last month at an open studio at the Wetland School Of Setiu in Kampung Mangkuk.
Today, this part of Terengganu holds a special place in her heart.
It has also given her a fresh creative outlook. Since the early 2000s, Cheng has only made art as a solo artist. But she loved being part of a team effort in this recent project.
"This is my first time collaborating with so many people, from the wau-makers, to the villagers and the wayang kulit troupe. It's quite nice actually. I might take this approach more often in the future.
"Art does not take a singular approach, it comes from multiple angles. I feel so happy that I have gained so many friends here. Without them and their generous help, this project would not have been possible," she concludes.
More details on the project here
Read the full article here
Source: The Star online (www.thestar.com.my)